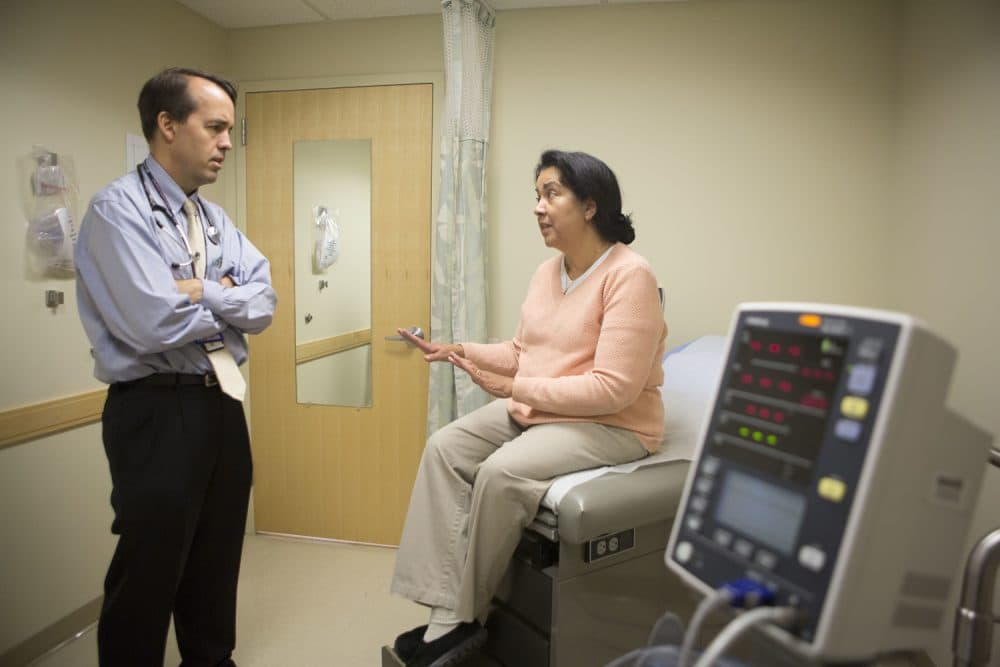 In Massachusetts, we are fortunate that we support a key principle: Every resident of the commonwealth should have access to affordable, high-quality health care coverage. Since health care reform was passed in 2006, we have achieved near-universal coverage. In that time, we have also taken some steps to address health care costs. But more needs to be done.
Right now, bills on legislators' desks outline a handful of steps Massachusetts can take this year to help control costs and respond to consumers' justifiable complaints about exorbitant "surprise bills" for routine medical services, hospital charges for patients treated nowhere near hospitals and soaring pharmaceutical costs. These growing problems often affect the most vulnerable among us, and the costs can be crippling.
The Massachusetts Health Policy Commission estimates that 10,000 patients a year are hit with a surprise bill — a charge for medical care from a provider "outside" their health plan's network. The charge comes with no warning and can tack thousands of dollars in unexpected costs to what should be routinely covered care.
Frequently, the surprise bill comes after an emergency visit to an in-network hospital or ambulatory surgery unit where a specialist who isn't part of the health plan's network — an anesthesiologist say, or emergency room doctor — provides treatment, and, with no advance warning, passes the bill on to an unsuspecting patient. Several legislative bills have been proposed that would require advance notice from the provider that a consumer may see an out-of-network provider and set a reasonable out-of-network rate for similar services. Other states already have laws that address this issue.
Legislators have also made it clear they want to stop another practice that is costing consumers millions and is simply wrong: inappropriate facility fees.
A mother takes her son to a physician's office or urgent care center, miles from the nearest hospital, to see if her son has the flu. But when the bill arrives, it includes a "hospital charge" — a bill that essentially says the care was received in an out-patient hospital setting. Patients hit with these bills — many on high-deductible plans where they must pay the fees — have a nearly universal reaction: How is this fair — or legal?
Hospital outpatient care is one of the fastest growing areas of health care spending and a large part of that stems from these so-called "facility fees" — charges added to services provided in hospital outpatient settings simply because the facility is owned by a hospital. The Health Policy Commission has long recommended that the state should limit both newly licensed and existing sites that can bill as hospital outpatient departments and implement site-neutral payments for select services for similar patients. This is a direction that the federal government is moving for Medicare. The state should follow suit.
Finally, there is reason to hope the Legislature steps in this year on a common-sense plan to hold the line on pharmaceutical costs, which rose 5% in 2017, after growing 6.4% and 12.1% the previous two years, according to data from the Health Policy Commission. The growth in pharmaceutical spending continues to be one of the biggest drivers of health care spending and was more than 35% of the growth in the state's total health care costs in 2017.
There must be greater transparency throughout the drug supply chain — from how drug manufacturers set prices and determine price increases to how pharmacy benefits managers contract with health plans and pharmacies. It is time we require pharmaceutical manufacturers to be more transparent about their prices as well as any year-over-year increases they seek. Both drug companies and benefits managers should be required to participate in the state's Annual Cost Trends Hearings and to submit information on how they set prices to the Health Policy Commission and the attorney general's office.
These are big steps, but Massachusetts' health care reform was founded on the principle of shared responsibility. It's time the pharmaceutical industry is as accountable as every other health care stakeholder.
Gov. Charlie Baker proposed a process for the state to set a fair value for a drug and allow MassHealth to negotiate supplemental rebates to lower prescription-drug spending. That proposal should be extended to commercial health insurance so employers can benefit from the lower costs.
As the Legislature and governor continue to analyze a variety of proposals on the table, we hope any final legislation will address these key issues. Controlling health care costs is possible. It isn't glamorous, and it's complicated and difficult — but we need to act. Tackling these challenges now is an important and meaningful way to address rising health care costs and would benefit tens of thousands of patients across the state.